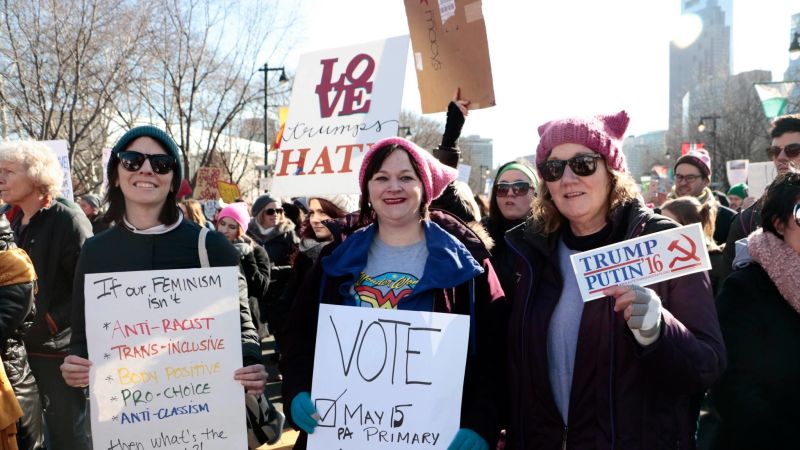 I am a political geek. A trove of facts that would only benefit on a very specific Jeopardy category. Canvassing for candidates. Staying up late on November Tuesday nights and coloring in maps of the country as states are called in Senate, House and Presidential races.
When I was packing up for college, a relative asked what I was most excited for in DC. My answer: "All the protests!" It was shorthand for activism, and I was excited to get involved. I studied political communication and political management, and wrote my thesis on civic engagement - voting - after national tragedies.
My other love is Philadelphia. I grew up outside the city, but Philly "wooder" is in my veins. From the heartbreaking '93 Phillies season to finally our city of Champions last year, this city has shaped me. Of course we're GQ's City of the Year - how are we not every year? (As Jason Kelce would say, "No one likes us, we don't care!") But I know this city has a long way to go before fully living up to its "City of Brotherly Love and Sisterly Affection" moniker. We have so much to offer, and we need to make sure that all Philadelphians have access to it all.
Like many Americans, I was stunned after the 2016 Presidential election. I had been less involved in the political realm after returning to Philadelphia from DC, and I knew I needed to connect with other women and men who were concerned, scared, and determined to change the trajectory that those results set us on. I promised myself that I would not ever get comfortable and complacent in elections and with our government.
One of the best results of the 2016 election is the number of women and men of all backgrounds running for office. We were motivated by fear, and hope, and the mantra "Be the change you want to see in the world." This primary season, there may be more candidates for every office than ever before, and frankly that is wonderful. What better for our democracy than real choices for representation? Of course I want to win, but a win is also record turnout and record engagement. People refer to this as an off-year election, but every election should be important.
I am running for City Commissioner because I understand we face a multifaceted problem. Our record high turnout in 2018 was due in large part to the same wards as always. We need to make sure that more Philadelphians can vote by expanding registration efforts. We need to make sure that the absentee ballot process is clear and fair to working adults. We need to make sure that training for election officials is concise, understandable and ensures that every vote will be counted. We need voting machines that have a paper trail and take us out of the target of hackers. If we can get more Philadelphians voting in every election, we will be closer to the promise of a true democracy.
(Picture (l-r) of my sister, Bridget, me, and my mom, Michele, at the Philly Women's Rally January 2018. My dad and son also walked with us. Photo by Kelly Vincent)